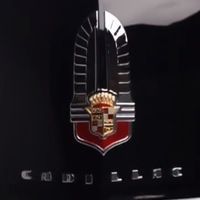 Cadillac Limousine 1941 The Duchess par General Motors ...
Publié le 05.01.2014

See this article in english
A perfect example of that concept is the one of a kind 1941 Cadillac limousine once owned by the Duke of Windsor to use while he was in New York City.

The car's current owner may have figured that by selling it at RM Auctions' Art of the Automobile sale in Manhattan last month, buyers would see that it had had regal owners, a strong connection to the city and a top-notch restoration. Conditions thus, the stars would align and someone would buy it for more than $500,000.

The stars did not align. Although RM Auctions' presale estimate for the car was from $500,000 to $800,000, the high bid was $415,000. The car did not sell.
"It has a great story, important owners and a great connection to New York City," Mark Hyman, who owns a dealership in St. Louis that specializes in prewar cars, said in a telephone interview. "How much value can be attributed to the story depends upon how much someone is willing to pay for it. I think the fact that it didn't sell in the auction supports the fact that it isn't worth half a million dollars."

For its part, RM Auctions alluded to the unpredictability of customer excitement on auction day as a possible cause for the disappointing sale.

"With a car of such outstanding provenance, it remains entirely possible for it to sell for in excess of its presale estimate," Ian Kelleher, a spokesman for RM Auctions, said in an email. "We did have a good degree of presale interest, however, it would appear the client level of interest that day was at a different price level."

Despite the current owner's failure to sell, the car - known as the Duchess - does have an interesting history. Custom built by Cadillac for the Duke of Windsor and his wife - for whom he abdicated the crown - the car is a veritable grab-bag of General Motors innovations, some of which didn't show up on production cars until almost a decade later.

In 1941, General Motors' Motorama shows were still years away. The Buick Y-Job, the revolutionary concept car from Harley Earl, G.M.'s design chief at the time, had been around for only two years. Cars were just then becoming the sculpted symbols of industrial engineering prowess, but the concept car idea was just beginning.

G.M. built the Duchess in that last year before the United States and its industrial powerhouse poured their resources into World War II. Mr. Earl's design team put together a car that was at least several years ahead of its time, and, whether intentionally or not, a harbinger of the styling that was to come to the company's cars during the postwar years.
The fenders flow together, a look that did not become popular until nearly 1950. Cadillacs of the era had thick chrome headlamp bezels, but the duke's car had body-color headlamp and indicator light bezels. The smooth look they provided melded well with the gutterless door frames and continuous fender lines.

Inside was a humidor for the duke's cigars, a jewelry case, an AM radio with a vacuum-operated retractable antenna, satin curtains and a rack for pipes. The limo also had a custom-assembled V-8 engine, made from the best parts G.M. had in the factory at the time, as well as automatic heating, stabilized independent front suspension and an automatic transmission. According to "American Cars, 1946-1959, Every Model, Year by Year" by J. Flory, fully automatic transmissions - the Hydra-Matic models - were introduced for upper-end G.M. cars only two years earlier, showing up on Cadillacs as a $125 option. It was a strongly selling feature, but it hadn't yet become standard, even on Cadillacs.

Roy A. Schneider said in his book, "Cadillacs of the Forties," that the Duke of Windsor had paid $14,000 for the one-off Cadillac, or more than $222,000 in today's dollars. That may not sound like much in terms of today's bespoke cars, which often go for upward of half a million dollars, but in 1941, people did not spend that much on cars.
According to RM Auctions, the duke sold the car in 1952, and it made its way to a series of collectors before being acquired by its current owner - Morgan Murphy - in 2009. Mr. Murphy had the car restored from top to bottom. Everything, including the tags behind the seats and the markings on the light bulbs, is either original or period correct, and RM says the car's engine runs quietly, idling at 400 revolutions per minute.
Regardless of how distinct and how fine it was, the Duchess could not command regal prices. But then, the antique car market can be fickle.

"It's hard to put a number on a car like that," Mr. Hyman said. "This weekend in London, for example, Bonhams sold Ringo Starr's Facel Vega for $550,000. The question posed is how much of that was the car and how much was that Ringo Starr owned it? That's not an easy question to answer; it's open to interpretation.
Article : By Benjamin Preston in The New York Times.
Credit Photos : Copyright @ 2014 Michael Furman, via RM Auctions. Credit Vidéo : Copyright @ 2014 RM Auctions.
Alan Baire Eveillard
---